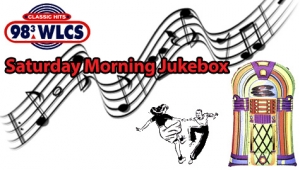 On this week's Saturday Morning Jukebox…
…a special musical theme show.  We'll take YOUR song requests from 6a-9a for song titles that mention a country or FOREIGN city!
Each hour, we'll play a game called, "Name That Profession," for your shot at a $50 gift card to Lewis Farms & Petting Zoo in New Era.
The boys will also be giving away passes to see Easton Corbin at Little River Casino (performance on June 9th).
A Saturday morning does not officially begin until you have started your day with the best show on radio.
The Saturday Morning Jukebox is hosted each week by Jon Russell and Rick Hickman each Saturday morning from 6 AM. – 9 AM on WLCS 98.3.
Rick and Jon bring a stack of favorites to play each week, as well as obscure tunes that will transport you back to your youth, regardless of your age.
They will also update you on notable artists, give away tickets and other prizes and interview a favorite from the 1960's or 70's like Art Garfunkel, Mickey Dolenz, Tommy James and others.
In short, the Saturday Morning Jukebox on WLCS is a local show that sounds NATIONAL. No wonder everyone in the Muskegon area begins their Saturday morning with Jon and Rick.
3rd Annual Jingle Jukebox
Join Jon & Rick as they'll take YOUR calls from 6-9am for song requests with tunes that have Who, What, Where, Why or When in the title!
They'll also have sound bytes from West Michigan journalists as part of the fun and a contest each hour where you can win valuable prizes.