What're the silliest, cleverest, dumbest things you ever did for love?
That will be Jon & Rick's discussion topic during this week's Saturday Morning Jukebox show!
Was it something romantic, outlandish or just embarrassing?
We're expecting a lot of fun with this one.
It's a show where the MUSIC is the star.
From 6-9am every Saturday morning, we focus on tunes you've likely not heard for a long time and that's why it's a 3-hour show that actually takes YOUR requests!
As usual, we'll have a great list of prizes and some fun games to give YOU a chance to be a winner.
Our contest THIS week will be the Triple Play and up for grabs will be gift cards from the Chicken Coop, the Glenside or Northside Pubs OR Lewis Farm & Petting Zoo!
What's the nuttiest thing you ever did for love?
We look forward to YOUR call during The Saturday Morning Jukebox, right here on Classic Hits 98 3 WLCS.
Weekdays 6:00 AM – 9:00 AM
All About: Rick Hickman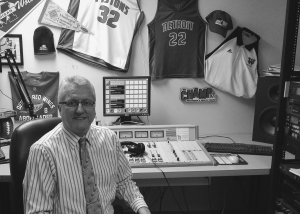 RICK HICKMAN is one of WLCS' most recognizable voices.  He has been with the Cumulus cluster of Muskegon stations since 1998.
He is one half of the team that delivers "The Morning Fix with Jon & Rick" every weekday morning on 98.3fm from 6-9.
Since 2008, Jon Russell & Rick have hosted the WLCS listener interactive "Saturday Morning Jukebox" show which features weekly musical themes, lively discussion topics, song montages and contests to win exciting prizes.
You'll often hear Rick broadcasting live from the area's best businesses and events.
Along with Jon Russell & Cal VanSingel, Rick is known statewide for being part of WLCS' exciting high school sports broadcast team during the football, girl & boys basketball seasons.  Famous for being able to deliver scores from all over Michigan, WLCS sports coverage has a statewide following during live broadcasts and on Twitter (@WLCSSports).
Rick lives in Norton Shores.  Having grown up in the Detroit area, he studied broadcasting while attending Wayne State University.  He is a big fan of the people of West Michigan and the natural beauty of our area.
One of Rick's biggest joys is working with area businesses to enhance their brand awareness to help them increase profits.    
Believing that our area deserves MORE live radio, Rick and the Cumulus team continue to work in that direction so that we may be better able to deliver the information that keeps you connected.  That's one reason why WLCS continues to take song requests and has such close ties to audience members!
E-mail:  rick.hickman@cumulus.com
Facebook:  WLCS
Twitter: @WLCSSports
Request Line: (231) 903-0405